ENEL Electrical Substations - DG 2061 Ed.09 - Distribution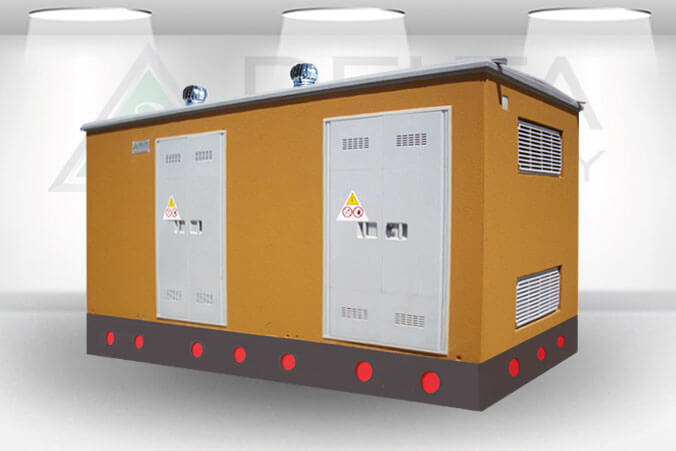 E-Distribution approved Electric Cabin type DG 2061 Ed.09 - Distribution
Cabina Elettrica omologata E-Distribuzione, utilizzata come sottostazione di trasformazione MT/BT. Le Cabine Elettriche DG 2061 Ed. 09 - Distribuzione sono costituite essenzialmente da due manufatti in c.a.v., il Box e la Vasca di fondazione.
Essa viene fornita completa di tutte le sue parti ad esclusione delle apparecchiature principali (Quadro MT, Trasformatore, Quadro BT e cavi).
The external walls are treated with a water-repellent plastic wall covering consisting of high-quality synthetic resins, quartz powder, coloring oxides and additives that guarantee perfect anchoring on the product, resistance to atmospheric agents even in industrial and marine environments, color inalterability in sunlight and stability to sudden changes in temperature. The basic colors of the cabin are RAL 1011 (beige-brown) for the external walls and RAL 7001 (silver-gray) for the roof, the internal walls and the ceiling are painted white.
Data sheet
Typology
CSS-5 E


Reference specification
DG 2061 Ed. 09


Dimensions (L x P x h)
Cabin: 5.710 x 2.500 x 2.600 mm
Basin: 5.670 x 2.440 x 600 mm
Weight
Cabin: 16 t
Basin: 6 t
Finitura
Cabin: Plastic


Color
Cabin: RAL 1011


Dotation
Wind blowers
Tunnel roofing elements
Covering plate in VTR
Passante
Rack cabinet
Canalette cable entry system
PC table
Binder / document holder
Support frame BT
Fixtures
DG2061 / 1: Fiberglass windows
DG2061 / 2: Galvanized and painted steel frames
DG2061 / 3: Stainless steel frames